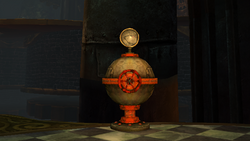 Valves are a type of machinery located only in Hatter's Domain that activates hidden Steam Vents. Some valves located in Smelling and Regurgitating were responsible for activating the cooling system of the factory.[1]
Appearance
The valve is a round metal machine supported by a red pipe and bolted down around Hatter's Domain. It has a pressure gauge indicated above it and a red wheel for Alice to use. The red metal rims on the top and bottom of the machine are screwed together, forming the center which holds the wheel.
Trivia
The Hookah also has the same function as the Valve as it summons the Oriental Grove Steam Vent – the small white hookah.
References