Great news!
American has recently released a blog post stating that he will start to work on a proposal for the next installment of Alice. The sequel is tentatively titled as "Alice: Asylum" and will be submitted to EA once the proposal itself is finished. However, as this is only a business proposal, Alice 3 still has a lot to go through before we can actually jump for joy that there will be an actual sequel. It still has to be approved by EA before anything else can be done after all :)
Fingers crossed that EA is willing to listen and allow American to continue his masterpiece. Click on Alice below to go to his blog page and subscribe to American's mailing list for Alice 3 updates! Meanwhile, do check out the live streams of his Alice: Madness Returns playthrough over at his channel.
Lia 05:34, September 4, 2017 (UTC)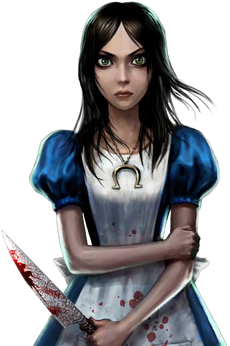 Community content is available under
CC-BY-SA
unless otherwise noted.