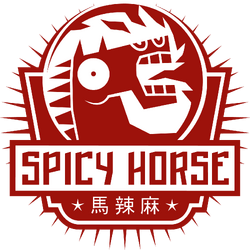 Spicy Horse (Má là mǎ in Chinese) is an independent video game developer based in Shanghai. It was founded in 2007 by American McGee and it specializes in creating boutique games using rapid production techniques and high-end technology, focusing on story-telling and game art. Most of the titles released by Spicy Horse have been based on macabre re-imaginings of fairy tales and classic literature.
While Spicy Horse produces video games for home consoles, a subdivision of the company called Spicy Pony focuses on producing game apps for iOS.
Spicy Horse worked for Electronic Arts to create Alice: Madness Returns, the sequel to American McGee's Alice, and Alice: Otherlands.
Closure
In 2016, American McGee announced that the Shanghai studio of Spicy Horse Games is closing its doors. The company itself will remain intact and will continue to operate existing games online, but it is unlikely Spicy Horse will release further games. At Spicy Horse's peak, during development of Alice: Madness Returns, the studio contained 85+ people, but in 2016, only contains 6.[1]
Properties
Video games
iOS applications
Key staff
Trivia
References
External links
Community content is available under
CC-BY-SA
unless otherwise noted.