The Ruin are a species of creature that existed when Dr. Angus Bumby corrupted Alice Liddell's mind and signaled the arrival of the Dollmaker. These are a creation of the Dollmaker and come from a black, oil–like substance, also referred to as "ruin," that is spread across Wonderland by the Infernal Train. This substance is acidic to the touch and forms the main bodies of most Ruin monsters. The rest are made of doll parts, the Ruin's weak spot, and steam–powered machinery (reminiscent of the Infernal Train itself). In combat, Ruin creatures usually attack with physical moves – although a few have ranged capabilities – and are often associated with fire, either as part of their attacks or as a warning before they strike.
The Ruin's main purpose is to try and stop Alice Liddell from saving Wonderland, and sometimes mounds of Ruin will block doorways, buttons, or other important items. However, killing all the Ruin creatures in the vicinity will cause the Ruin–covered items to dry out and become brittle, allowing Alice to smash it off with her Hobby Horse or Teapot Cannon.
Types of Ruin
Trivia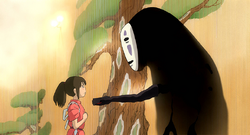 References
Community content is available under
CC-BY-SA
unless otherwise noted.