Oyster Starlets
Biographical information
Alias

Oyster Sisters, Oysters

Provenance
Physical description
Gender

Female

Hair color

Auburn (Back-up dancers)
Blonde (Main star)

Skin type

Mantle

Occupation

Burlesque dancers

Image gallery (7)
Oyster Starlets
 are creatures
Alice Liddell
met in the
Deluded Depths
. Alice was tasked to wake them up from their sleep for them to perform in the
Carpenter
's show,
Totentanz
, but only ended up getting eaten by
Walrus
during the show itself.
[1]
History
Through the Looking-Glass
In the "Walrus and the Carpenter" poem narrated by Tweedledum and Tweedledee, the Oysters were the victims of Walrus and Carpenter's deception when they were promised for a discussion of fantastic things while they were, in fact, the meal.
Alice: Madness Returns
The Oysters were present during the preparations of the Carpenter's show. After Alice helped Music Fish with his instruments, he ordered her to wake the Oyster Starlets up.[2] With her task done, Alice found the main star needing help with the show's poster minutes before the beginning of the show. Upon completing the poster, the main star left and Alice set out to the theatre to watch the show.[3]
She arrived at the theatre in the nick of time and saw the opening number of the Oysters up until the Walrus landed on the main star. Alice witnessed the Carpenter fed the Oysters to Walrus, who gorged on them and the residents of the underwater world.[1]
Appearance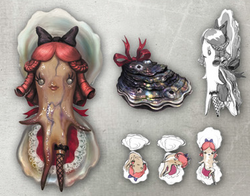 An Oyster Starlet's actual body is the very muscle of an oyster. Her hair is styled as curled ringlets, with a bow at the back of her head. Her face is adorned with make up and she wears fishnet stockings on her left leg. An Oyster Starlet's eyes are oyster pearls and her shell has a lace on either side. The overall appearance of an Oyster Starlet resembles a Burlesque performer.
Normal Oysters have auburn hair with black bows and carry red lace, while only the star is blonde with a blue bow and has blue lace.
Trivia
There is a large crate labeled "Oyster & Co" in front of Guffaw Brothers Button Emporium, Houndsditch,[4] and in the docks.[5]
The Oysters originally only appeared in "The Walrus and the Carpenter", a poem made by Lewis Carroll and recited by the Tweedles in Through the Looking-Glass.
The Burlesque appearance of the Oysters could be a reference to either Nan Sharpe's whorehouse, or Doctor Bumby's plan to use children as prostitutes.
The Star resembles the more famous Alice incarnation. This is odd due to the fact American McGee wanted to break away from the traditional Alice style.
In cut footage of the game, it is revealed that the Oysters may have been narcoleptic. They also did not want to be in the play.[6] Alice could also see the starlets before the show began.
The use of beds is visual word play of an "oyster bed."
References
External links
Community content is available under
CC-BY-SA
unless otherwise noted.