This article is about the location. For the music piece, see "Moorgate Station (instrumental)".

"
I might use the Underground one day... if they ever complete the construction.
"
Moorgate Station is a fairly new station located in London's East End, right across from the Houndsditch Home for Wayward Youth.
History
Alice: Madness Returns
Alice was sent to pick up a prescription after her session with Dr. Angus Bumby. After leaving Houndsditch, the construction of the station blocked her path, causing her to take a different one, and it eventually led her to a white cat that she followed until Pris Witless found her.[1]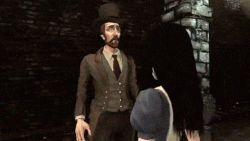 When Alice realized the truth later on, she confronted Dr. Bumby, her family's killer and the one responsible for the Infernal Train, at the newly built station.[2] He mocked her and claimed that nobody will believe her story. Grabbing the opportunity to avenge the death of her sister and parents, she swiped Lizzie's key from his hand and pushed him in front of an incoming train. She left the area after his death and due to her actions, London had promptly merged with Wonderland, creating Londerland.[3]
Appearance
The Moorgate Street during the construction of the station was filled with debris, several construction workers, and a vehicle with a hook. The whole area had been blocked to prevent anyone from passing through and a sign was placed to inform that the street was closed and the traffic on Metropolitan and Circle lanes were restricted.
After the station was completed, the building looks similar to the other structures during the Victorian London era. It is a tall, brick building with several windows and an open entrance to the underground railway.
Trivia
It was founded in 1865 and its location in reality is in Central London.[4]
The Moorgate Station, formerly known as Moorgate Street, is one of several central city underground train terminals in London, England. It was a terminus for the Moorgate area in the Thameslink line until March, 2009. It is known for its 1975 train collision in which 43 people died and 74 were injured.[4]
References
Community content is available under
CC-BY-SA
unless otherwise noted.