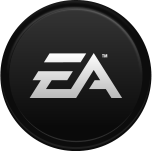 Electronic Arts, Inc. (EA) is an American developer, marketer, publisher and distributor of video games, including the Alice series such as American McGee's Alice and Alice: Madness Returns.
History
Founded and incorporated on May 28, 1982 by Trip Hawkins, the company was a pioneer of the early home computer games industry and was notable for promoting the designers and programmers responsible for its games. Electronic Arts is the world's third-largest gaming company by revenue after Nintendo and Activision Blizzard.
Currently, EA develops and publishes games under several labels including EA Sports titles, Madden NFL, FIFA Football/Soccer, NHL, NCAA Football, SSX and NBA Jam. Other EA labels produce established franchises such as Battlefield, Need for Speed, The Sims, Medal of Honor, Command & Conquer, as well as newer franchises such as Dead Space, Mass Effect, Dragon Age, Army of Two, and Star Wars: Knights of the Old Republic, produced in partnership with LucasArts. EA also owns and operates major gaming studios, Tiburon in Orlando, EA Canada in Burnaby, BioWare in Edmonton as well as Montreal and DICE in Sweden.
Alice controversies
Although EA is a controversial video game company in general, EA has been somewhat controversial among Alice fans for its treatment of the series. Such examples include:
During the development of Alice: Madness Returns, EA refused to give the developers more time and funding.[1]
EA removed Alice: Madness Returns off Steam in order to boost popularity of the game on their own storefront Origin.
When American McGee wanted to create some fan films for Alice: Otherlands, EA told McGee and Spicy Horse that they needed to give them $100,000 USD to acquire the film rights.
When American McGee wanted to make a third Alice game, EA told him that he needed a demo of the video game for them to consider. However, American McGee didn't have the funds or resources to produce a demo, and Electronic Arts apparently rejects a demo funded by crowdfunding like Kickstarter. Fans criticized EA's approach, as it meant the game would be caught in a Catch 22.
Community content is available under
CC-BY-SA
unless otherwise noted.