American McGee
Biographical information
Birth name
American James McGee
Born
December 13, 1972
Further information
Link(s)
American James McGee is an American video game developer, and the creator and director of American McGee's Alice, Alice: Madness Returns, and Alice: Otherlands. He is the CEO and founder of Spicy Horse.
History
Early life
American James McGee was born in Dallas, Texas to an eccentric mother who was a house painter.
In explaining where his name came from, McGee has said that his mother was a hippie and was inspired by a woman she knew in college that named her child "America".
"Yes, my mother named me that. She claims a woman she knew in college, who named her daughter 'America', inspired the name. She also tells me that she was thinking of naming me 'Obnard'. She was and always has been a very eccentric and creative person."
— American McGee
McGee had a "fucked-up, weird-ass childhood". He met his biological father only once, at his 13th birthday party. His father, whom he had just met for the first time, was inebriated and assaulted McGee with intent of murder. McGee escaped this event by suggesting they drive to a bar and get drunk. Fortunately, his father agreed and McGee speculates he would have been killed or molested otherwise. Shortly afterwards, his father crashed into a telephone pole.[1]
McGee was highly creative and was gifted in mathematics and science. He also took an early interest in computer programming, eventually getting accepted to a magnet school for computer science.
McGee had a number of stepfathers growing up until his mother finally settled on a transgender woman. When McGee was sixteen, he came home from school only to find the house empty and abandoned. The only things left were his bed, his books, his clothes and his Commodore 64 computer. His mother had sold the house to pay for two plane tickets and the fee for her girlfriend's sex change operation. On his own, McGee packed up his computer, dropped out of high school and took a variety of odd jobs, finally settling on a Volkswagen repair shop. McGee never finished high school, saying he was "forced" to drop out, recommending no one else to do the same, stating what happened with him was just "chance".
id Software, Rogue Entertainment, and Electronic Arts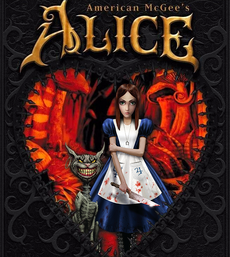 In 1992, McGee became neighbors, then friends, with John Carmack, the co-founder of id Software, maker of the popular game, Castle Wolfenstein 3D.
Carmack gave a tech support job to McGee, who was quickly promoted to level designer and music manager. In 1994, McGee began his career in level design, music production, sound effects development, and programming at id Software, working on such games as the Doom and Quake series. One day, McGee was fired from id Software, and he wasn't really sure why (presumably layoffs), but he notes many people were fired from id.
In 1998, he moved to Electronic Arts, where he worked as creative director on several projects. McGee was given creative freedom and heard a song with the word "wonder" (he later clarified it was "Trip Like I Do" by The Crystal Method), which inspired him to create a dark re-imagining of Alice, which turned out to be American McGee's Alice with Rogue Entertainment. Part of the inspiration for the macabre tone of Alice came from his disturbing, dysfunctional childhood.
The Mauretania Import Export Company
After finishing Alice, McGee left EA to found his first company, The Mauretania Import Export Company. Partnering with Enlight Software, McGee released the games Scrapland in 2004 and Bad Day L.A. in 2006. The planned American McGee's Oz, which was to be produced in conjunction with Ronin Games, was cancelled over financial difficulties at Atari.
Spicy Horse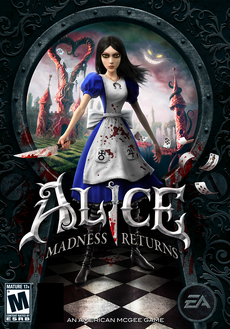 Later, McGee moved to China. In 2007, McGee founded his second game development studio, Spicy Horse and the company released their first title, the American McGee's Grimm series, that same year for the online service GameTap, which ran from July 2007 to April 2008.
In 2009, Electronic Arts announced that a sequel to Alice was in development for PC, PlayStation 3 and Xbox 360 by Spicy Horse. In July 2010, Spicy Horse and EA announced the sequel's title, Alice: Madness Returns.
On December 17, 2010, The Mauretania Import Export Company dissolved and all intellectual property was transferred to Spicy Horse. After less than one year after its announcement, Alice: Madness Returns was released on June 14, 2011.
Spicy Horse expanded to include another brand, Spicy Pony, to produce digital mobile media games for the iPhone platform. Their first title, DexIQ, was released in early December 2009 and was soon followed by Crooked House in March 2010 (both had iPad versions released in June 2010). Their third iPad title, Akaneiro was released on December 23, 2010.
In June 2012, McGee created a Kickstarter campaign for his latest fairytale title, OZombie (a dark re-imagining of Oz), although it was put on hold for Alice: Otherlands. Otherlands was successfully funded and created. However, Otherlands is currently a series of two short films and some other concept art and information, not a video game. Meanwhile, OZombie failed its $950,000 goal on Kickstarter.
Closure of Spicy Horse and pirate life
In 2016, McGee announced that the Shanghai studio of Spicy Horse Games is closing its doors. The company itself will remain intact and will continue to operate existing games online, but it's unlikely Spicy Horse will release further games, with the possible exception of Alice: Asylum. At Spicy Horse's peak, during development of Alice: Madness Returns, the studio contained 85+ people, but in 2016, only contained 6.[2] McGee decided to focus on indie development and continue to publish small titles under the Spicy Horse brand.
McGee also was a part of Pirate Jam, described as an annual event in Thailand where game developers around the world are put aboard sailboats and sailed between islands while they make games and engage in pirate-themed games and challenges.[3]
Future of the Alice series
American McGee's Alice was given a slight remaster for PC, PlayStation 3 and Xbox 360 in 2011. When asked about another remaster or remake on par with Madness Returns, McGee said he wouldn't mind.
In June 2016, McGee proposed an Otherlands video game continuation to Electronic Arts. In response, EA told McGee that he needed a demo of the video game for them to consider. However, McGee did not have the funds or resources to produce a demo, and Electronic Arts apparently rejects a demo funded by crowdfunding like Kickstarter.[4] This has led many to criticize EA's approach, as it meant the game would be stuck in a Catch-22. In 2017, McGee wrote a blog post about how little control he has over making new Alice content such as a new game, and that it all lies on EA.[5]
Later, he made a blog post about proposing the third game again to EA, tentatively titled Alice: Asylum about young Alice's time in Rutledge.[6] Development of the concept can be seen on his Patreon and YouTube.
Alice credits
American McGee's Alice
Creative director, co-writer, designer
Alice: Madness Returns
Creative director, co-writer, designer
Alice: Otherlands
Alice film
McGee has attempted to secure the rights and assets in order create a film adaptation of American McGee's Alice, but has had difficulties doing so, so it remains in limbo. Because Electronic Arts published American McGee's Alice and Alice: Madness Returns, EA holds the film rights to a potential film adaptation of American McGee's Alice.
In December 2000, director Wes Craven signed on to develop a film adaptation of Alice, and screenwriter John August was hired to adapt the game for the big screen. McGee had begun negotiations with Dimension Films 10 months before, with the studio committing to the project before Craven's signing.
In September 2001, August explained that he had turned in a script treatment for Alice and was not attached to develop fuller drafts for the film adaptation. In February 2002, Dimension Films signed screenwriters Jon and Erich Hoeber to write the screenplay for Alice. In July 2003, the brothers announced that they had completed the script for the film adaptation.
In 2004, the project moved from Dimension Films to 20th Century Fox, but then in 2005 Universal Pictures acquired the rights. As of June 2008, producer Scott Faye indicated the film was in "turnaround" from Universal. He admitted that the script needed development, but would be used to attract the attention of a new studio. At one point, the film rights were reported to have been owned by Sarah Michelle Gellar, who at one point was rumored to play Alice in the film. She noted in 2008 that she's "not giving up" on the film, but a few months later she was reported to have left the project.
In 2013, with the success of earning the funds to produce Alice: Otherlands, McGee stated his desire to continue to work on the possibility of adapting the series into a feature film on Kickstarter. On February 17, 2014, McGee announced that he and his team have secured a British screenwriter to write the film's script. On April 16, 2014, he assured fans that the film is still in production and is currently working with a producer in Hollywood who they have licensed the rights from, but has run into a few difficulties along the way.
On July 10, 2014, McGee informed fans that the progress on the feature film has come to a temporary halt. McGee stated that he has secured the rights only to develop the feature film's story and production, and must acquire the film rights completely before proceeding further. He spoke with potential investors and financiers to gather the required film rights funding, $400,000 USD, for Electronic Arts. On January 8, 2015, McGee stated that negotiations for the feature film went on a hiatus.
The current state of an Alice film is in limbo. In 2018, he mentioned that any development company interested in creating an Alice movie (such as Laika who made Coraline and ParaNorman) should contact him.[1] Because the Alice series has expanded since the first game, the film would not necessarily have to be an exact retelling of it.
Trivia
General
His Japanese name is Takashi.[7]
McGee once had a forum on his own website where he answered questions, but it went the way of the Dodo. Many answers can be found here.
McGee does not want his responses, or lack of responses, interpreted as being "arrogant," "deceptive," or "ignorant." He is a very busy guy who does not have the time to reply to every fan question and concern.
McGee has stated that if you say his name three times, he will appear.
McGee has stated his mission is "to create a unified production method for story telling across the interactive and film industries" and of himself, he says, "I want to be the next Walt Disney, only a little more wicked."
McGee is an atheist. In regards to Alice's religion or personal beliefs, McGee does not feel it is necessary to comment on them, stating that it's irrelevant to her story or character. However, he did say that he hoped that Alice would be smart enough to realize that "religion as a thing requiring on faith is stupid." and that "Alice believing in herself" is "enough".
McGee is a libertarian.
In 2015, McGee's sister mysteriously went missing and he does not know where she is.[8]
In 2019, McGee became a father to a boy.
McGee appreciates the positive feedback on the Alice series, though wishes Alice fans were more enthusiastic about his other projects. He has come to reluctantly accept that he will always be mostly known as the "Alice guy".
He feels the best villains are usually the sympathizable ones who have understandable motivations, even if one does not necessarily agree with their motivations.[2]
He dislikes criticism that is not constructive, such as when people say "I hate this" but not explain why.[3]
His three tips to help people suffering from depression are to eat healthy delicious food, exercise regularly, and maintaining a regular schedule. He also advises to stop reading depressing news feeds and to limit social media.[4]
Alice series
McGee expresses distaste for those who sexualize Alice or draw her in overtly-sexy clothes, due to Alice's origin story, her backstory involving her sister, her almost being forced into prostitution to get by, men leering at her during the game, and the tone of the series. He was also annoyed when during the development of Madness Returns, one of the designers asked him what the player should see when they peek up Alice's dress, as if that was something important to consider.
McGee's favorite characters in American McGee's Alice are the Jabberwock and the Boojum.[7] He also likes the Carpenter from Madness Returns.
McGee is both proud and embarrassed to have his name in the first game's title. Embarrassed because so many other people besides him contributed to American McGee's Alice, yet proud because he feels it is wonderful having his name attached to the project. He also mentions it was partially for marketing and even tried to fight against it.[5]
McGee believes that if Lewis Carroll ever saw the Alice series, he would "probably freak and run out of the room." Then, when someone explained to him that computers "weren't the work of Satan... imagine he might be pleased."
McGee occasionally throws shade at Electronic Arts for being difficult to fund another Alice game. He says Electronic Arts "carefully apply proven marketing techniques to achieve the desired customer response" and they "care" in direct proportion to its success in the market.[9]

While discussing him playing American McGee's Alice: "I might have to go to Origin or somethi... We're going to pirate a copy."[6]

His favorite Alice dresses are the Classic dress, Steamdress and Hattress.[10]
He completed a Let's Play of American McGee's Alice:
He completed a Let's Play of Madness Returns:
References
External links
Community content is available under
CC-BY-SA
unless otherwise noted.