Alice: Otherlands
Directed by
Produced by
Written by
Starring
Music by
Cinematography

Edward Goin ("Leviathan")
Troy Morgan
("A Night at the Opera")

Release date

October 31, 2015

Running time

18:25

Image gallery (53)
Alice: Otherlands is an animated sequel to Alice: Madness Returns. It is a series of two short films and artwork developed by Spicy Horse to help bring closure to the Alice series, which was envisioned as a trilogy by American McGee.
However, American McGee stated that it does not necessarily mean that there will be no future Alice installments.[1] McGee is currently working on a proposal called Alice: Asylum.
Plot
"Alice is fighting a larger evil in the world. One that affects not just her or the people that she cares about and nearby, you know, her family and friends, but also affects society at large."
Otherlands
is set in the near 1876 where it focuses on a 20-year-old
Alice Liddell
connecting with and entering the mentalities and minds of those around her known as "
Otherlands
", and revolves around her discovering the horrors of the human subconscious – especially those of history's most famous minds.
[2]
Having unified the material and psychological worlds Alice now embraces her power, which allows her to move freely between both realms. No longer limited by mortal constraints, she can enter into and manipulate the psychological worlds of others. Now a confident and powerful heroine, although still not entirely void of her trademark attitude, she is able to help those in need – confronting manifestations of their psychological trauma, guiding them to resolution and tranquility.[3]
Shorts
"Leviathan"
Alice visits the mind of Jules Verne and guides him through the visuals of his novels, as they discuss the nature of humanity and their fears.
"A Night at the Opera"
Alice, while working at the London Royal Opera House, discovers the mind of Richard Wagner through his opera.
Production
In May 2011, American McGee stated that a story had already been created for a potential third game, but stressed that it would only be produced if the audience desired it.
In June 2012, McGee reiterated his intention to develop a third game, now titled Alice in Otherland. McGee revealed that the game would be released episodically, and stated that it "would allow Alice to go into the minds of all these characters she encounters, and it opens up the possibility where you could play as Alice and you can enter into a player's mind, change the landscape, and then basically psychologically adjust the character in doing so. Imagine an MMO where the missions aren't locations, but they're people." However, he said that the game was unlikely to be produced soon due to a lack of interest from Electronic Arts.[4]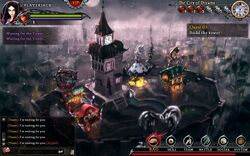 Due to dealings and a lack of interest from Electronic Arts which owns the Alice property, regarding budgeting and licensing, it became an independent project on Kickstarter. American McGee posited Otherlands as an MMO game, but this idea was generally met with fan disapproval. The image was an edited piece on concept art which contained a chat box, a quest reminder, a set of tools and options, a clock, a health bar, an Alice icon, username, "VIP" status, and finally a loading bay.
American released a statement that Spicy Horse had a possibility to buy the rights to a set of short Alice films based upon the concept of Otherlands. For $100,000, they could secure the rights to a set of animated shorts based upon the series and to secure the option, however, they would need $500,000 to secure any rights to a feature film. The $100K would go to the final price, however, it would need to be followed up by regular payments to the seller.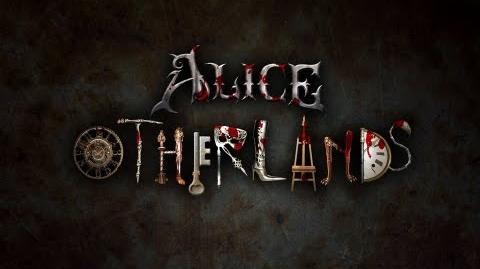 Otherlands was re-envisioned as an animated film series instead and the Kickstarter began. On August 5, 2013, the project was successfully funded on Kickstarter with $222,377 with 3,389 backers. Voice acting funds for Susie Brann were acquired soon after. Originally, the project was intended to be released on December 2014, however, the project was still in the scoring phase by the time December had started and was set to resume after the holidays.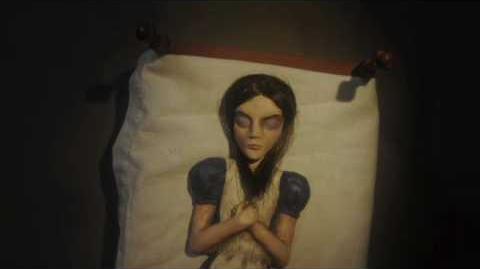 Troy Morgan, who previously created a Madness Returns fan teaser, became attached to the project.
Funding was distributed in several ways. The film rights cost $100K, leaving $122K left for production. Physical manufacturing for backer rewards and shipping costed roughly $40K, leaving less than $80K towards actual production.[5] Spicy Horse had to work within a very tight budget.
Release
Otherlands was released October 31, 2015. The digital copies and assets were released first. The physical copies and assets were released after. The digital assets include:
The Art of Alice: Otherlands in .PDF format
Alice: Otherlands Original Soundtrack with 2 .MP3 tracks composed by Walter Sickert
Art and concept art (Alice dress renders, environment concepts, model test renders, rendered images/stills, sketches, storyboards, production photos, etc.)
Blu-ray & DVD cover/disc artwork that is suitable for printing or digital application
A separate set of downloads are available for the video files, with a file for each of the following:
.ISO disc files (2 files: one for Blu-ray, one for DVD, which can be virtually emulated in Windows 8 and higher in VLC player)
HD video files (.MOV format)
Digital content is available as file downloads (via Mega), videos are available on YouTube and Vimeo, sound files on SoundCloud, and other elements are released via American McGee's blog. All links and sites are shared in full via an update on Kickstarter.[6]
Petition and future of the Alice series
"Being fan-funded and deriving from the property's film license, Otherlands carries an unusual, rogue-like status next to the "official" content contained within the games published by EA.

It's uncertain whether we'll see Alice continue to explore Otherlands (in film or games), or if her adventures will continue along a different path. Despite the magical nature of these explorations, their existence requires real world funding and planning – a fate controlled by mysterious corporate and legal doings.

For now, we have two short films and supporting art to sate our appetite for psychological adventure. Directors Troy Morgan and Ed Goin take us on journeys as unique as the characters whose minds Alice invades. Their visions add to the growing collection of art and storytelling that's grown out of the Alice series."
In anticipation of
Otherlands
, fans created a petition directed at Electronic Arts, entitled, "Let American McGee make a new Alice game", which gained over 25,000 signatures since its creation.
[7]
In June 2016, McGee proposed an Otherlands video game continuation to Electronic Arts. In response, EA told McGee that he needed a demo of the video game for them to consider. However, McGee doesn't have the funds or resources to produce a demo, and Electronic Arts apparently rejects a demo funded by crowdfunding like Kickstarter.[8]
In July 2016, Spicy Horse mainly shut down. However, McGee and Spicy Horse will continue to pursue and support opportunities to expand Alice's story wherever possible.[8]
In 2017, McGee wrote a blog post about how little control he has over making new Alice content such as a new game, and that it all lies on EA.[9] Later, he made a blog post about proposing the third game again to EA, tentatively titled Alice: Asylum.[10] The proposal of Alice: Asylum is currently being supported on Patreon and fan community sites.
Reception
The short films received generally positive reception, however, some fans disliked the anime aesthetic of "Leviathan", while others were kinder to it. Some viewers had difficulty hearing Jules Verne's thick French accent; there are subtitles for it in the art book, as well as a subtitled version in a video available in Vimeo.
Some fans were also disappointed and underwhelmed, and criticized the project for being misleading. There were only two films, when the Kickstarter made it seem as if there were going to be much more. The Kickstarter showed concept art for over 10 different Otherlands such as Vincent Van Gogh, Thomas Edison, Sarah Bernhardt, etc., and many backers mistook this as a visit into their minds. However, the Kickstarter pitch only promised that "if the campaign [was] successful, [backers] will receive, at a minimum, an animated adventure into Otherlands."[2] Excluding credits, both films combined are only 13 minutes, while "an animated adventure" could be interpreted as the standard length of a typical 1 to 2 hour movie.
During development, it was said that Chris Vrenna, the music composer of the first game, and Roger L. Jackson, the voice actor of Cheshire Cat, would return. However, they were inexplicably removed from the project for unexplained reasons. In a follow up, American McGee revealed that he and Chris were unable to come to an agreement on his fee, citing that "[he] did not want to make a big deal out of it, as [he] was concerned it would appear as if [he] was throwing [Chris] under the bus."[11]
Related media
Art book
Spicy Horse released an art book entitled The Art of Alice: Otherlands. Physical hardback copies are for Kickstarter backers only, while the digital version in .PDF format are available for non-backers.
It features an introduction by American McGee, and full-color promotional pieces and concept art for Otherlands, with notes from the artists.
Soundtrack
The original score containing one of each music for "Leviathan" and "A Night at the Opera" is entitled Alice: Otherlands Original Soundtrack. It is composed by Walter Sickert and the Army of Broken Toys.
References
External links
Community content is available under
CC-BY-SA
unless otherwise noted.