"A Night at the Opera"
Directed by
Produced by

Troy Morgan

Written by

Troy Morgan

Starring
Music by
Cinematography

Troy Morgan

Release date

October 31, 2015

Running time

7:54

Language

English

Image gallery (11)
"A Night at the Opera"
is the second and final short in
Alice: Otherlands
. It delves into the mind of
Richard Wagner
.
Plot
Alice finds employment at the London Royal Opera House, doing backstage work. She talks about how her parents used to describe it to her, saying 'it was the only place on earth where dreams come alive'. Despite their words, Alice has not actually seen one of the shows even after the events of the fire.
As she is placing the books on the shelf, she accidentally hits a medium-sized glass orb and it falls on the floor, rolling into a miniature diorama of a stage. She follows a paper cutout of an opera singer and crawls through the curtains until she reaches the front stage, where she notices Richard Wagner on a podium of trumpets. He prepares to conduct his opera, Der Ring des Nibelungen, and the curtains open to reveal an underwater backdrop. Alice looks at the sudden scenery and notices Alberich from the other side of the stage who rushes towards her and swipes her Omega necklace.
Alice can only gape at his retreating figure as Wagner flips to the next page of his music sheet, then the backdrop changes into the evening sky. A Valkyrie swoops down and lifts Alice up and away to Valhalla and drops her in front of the throne. Wotan orders her to retrieve her stolen necklace because it contains a secret that could end the world, and suddenly transforms Alice into a Valkyrie. She and the other Valkyries set out to defeat Alberich in a mountain cavern.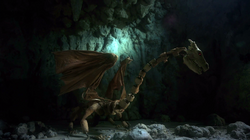 Once there, they fight Alberich, who has transformed into a skeletal dragon using the power obtained from her necklace. They successfully kill him and he slowly reverts back into his dwarf self. Afterwards, Alice and the Valkyries return to the palace, and she gives her necklace to Wotan. When he clutches the necklace, the sky turns red and fire rises beneath the mountain where the palace resides. He reveals his scheme: "Now the Earth shall be reborn from ash!" An infuriated Alice stands up against him and uses her spear to stab him in the eye, killing him in the process.
Alice wakes up to find herself on the stage floor just as Wagner finishes his opera, and behind her is Valhalla engulfed in flames as the curtains close. She then claims that she has "had [her] fill of the theatre for a while."
Cast
External links
Community content is available under
CC-BY-SA
unless otherwise noted.